ExxonMobil is one of the largest oil & gas corporations in the world, with operations in dozens of countries and more than 70,000 employees. Its roots can be traced back to John D. Rockefeller and currently the company's CEO is Darren Woods.
ExxonMobil's main activities consist of exploring, drilling, and refining crude oil, natural gas liquids, bitumen, and synthetic oil, through a significant number of sites located in the U.S., Canada, Europe, Africa, Asia, and Australia.
By Q3 2019, the company's liquids production reached 2,392 kbd, which represents a 4.6% increase compared to the same quarter last year. On the other hand, its refining throughput decreased by 7.7% during Q3 2019, also compared to last year.
The company reported a total of $65,049 million in revenues during Q3 2019, which represents a 14.5% decline compared to Q3 2018. This decline was attributed to declining oil prices and realization.
ExxonMobil's net income fell from $6,240 billion, ending at $3,170 billion at the end of this last quarter, which represents a 49.2% decline compared to the same period last year. Its Diluted Earnings per Share (EPS) were $0.75 for this last quarter.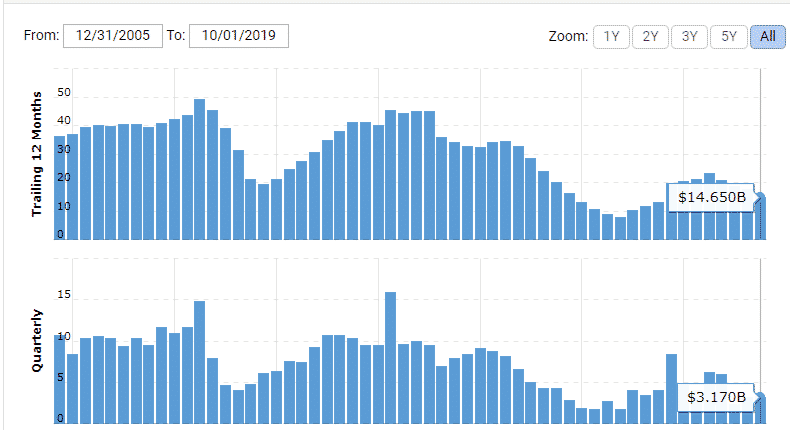 Most of this decline in earnings was influenced by weaker results in upstream results both in the U.S. and overseas, and due to a reduction in the company's earnings from its chemical operations in the United States. Additionally, the company attributed some of this performance to a significant number of scheduled maintenances that occurred during Q3 2019.
The company expects that scheduled maintenances will continue to affect its operating expenses during Q4 2019, even though some of this impact may be offset by higher seasonal demand of natural gas from European countries. On the other hand, the chemical business unit may continue to underperform as the company continues to expect low margins due to supply length.
Click Here For My Top 5 Technical Indicators
While the stock price has gone effectively nowhere for 5 years, the dividend has continued to increase and the stock is now yielding around 5%. It is also one of the Dogs of the Dow for 2019.
I think XOM is too big to languish like this and we could see a turnaround in the next few years.
Here's a trade I made a few weeks ago, it's a little different, but stay with me. I sold a 2-year put spread at $60-$50 for around $2.70.
Here's what the trade looks like: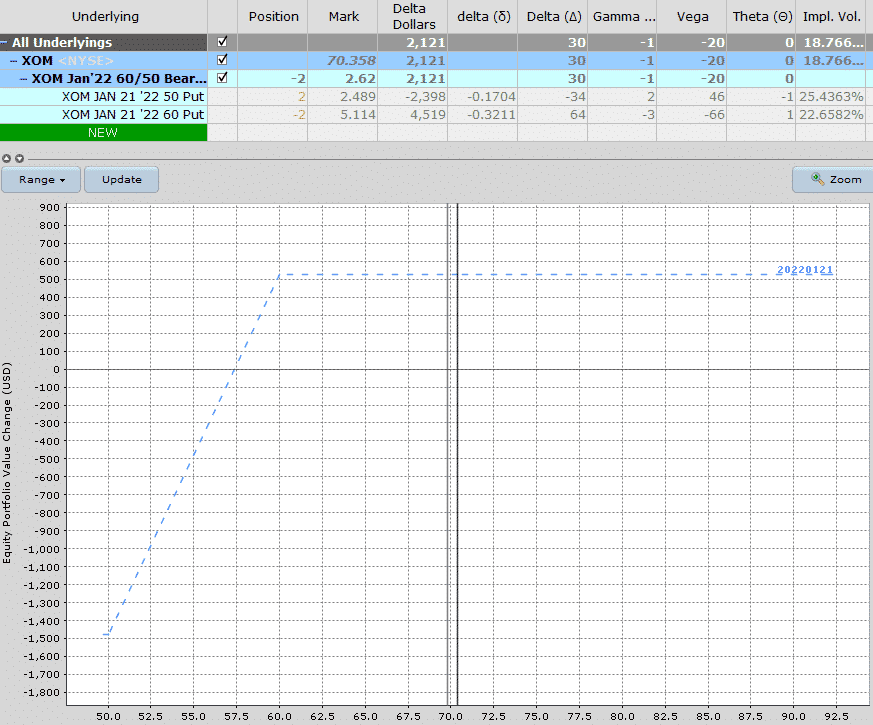 While it's a long-time to wait to achieve the full return, there is a nice margin for error and a decent return on capital.
The margin for error is -18.5% with the breakeven price being at $57.30.
The return on capital is 37% which works out at around 18% annualized.
I like my chances of XOM being above $60 in two years' time, but let's see how it works out.
Trade safe!
Gav.
I'll be running a free webinar on January 7th – The 5 Step Blueprint to Option Trading Success – REGISTER HERE.
Disclaimer: The information above is for educational purposes only and should not be treated as investment advice. The strategy presented would not be suitable for investors who are not familiar with exchange traded options. Any readers interested in this strategy should do their own research and seek advice from a licensed financial adviser.