Dividend stocks are a great alternative for those looking to supplement their regular income. They may not be something to show off during a dinner party conversation, but they'll surely put money in your pocket quarter after quarter.
A dividend stock is a share of a company that offers a higher dividend yield, which results from dividing its last paid dividend per share by its current price per share. That being said, there are a few things you probably want to look for in a dividend stock, including:
Consistency – A long track record of past dividend payments.
Financial strength – A sound financial situation that guarantees that your dividends will continue to be paid during the near future.
Potential growth – Indications that the company may be willing to increase its dividend payments over time.
Sounds interesting? If you are looking to invest in dividend stocks during 2020, here are a few picks you should consider:
Caterpillar (CAT)
Dividend Yield: 2.8%
Caterpillar is one of the largest manufacturers of heavy-duty construction and mining equipment in the world and it is a top pick for dividend investors, especially considering that its management has set a goal to expand the company's payout ratio from 7% to 9% by 2023.
CAT had a mediocre start to 2019 but finished off the year strongly for a roughly 22% gain. The stock is holding above recent support and the 200-day moving average has started to slope upwards having spend most of 2019 trending down.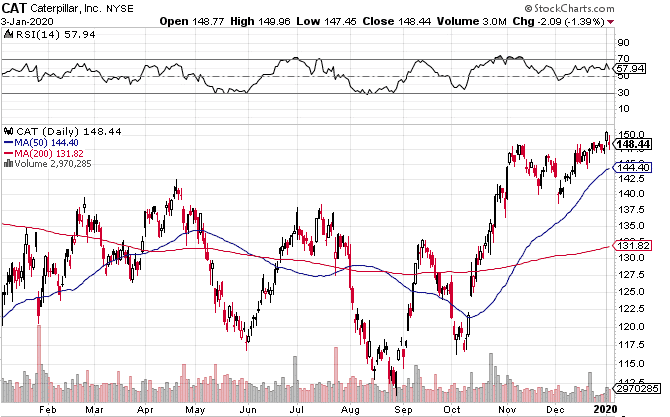 Duke Energy Corp. (DUK)
Dividend Yield: 3.9%
Duke is a large power holding company with more than 7.7 million customers in six states and over 1.6 million customers served by its natural gas distribution business. Its most recent quarterly results indicate that Duke's Diluted EPS grew by more than 20% and they are lined up to end up the year performing significantly better than 2018. The dividend yield along with the positive performance makes Duke a top dividend stock pick for 2020.
Implied volatility has risen slightly in the last few weeks which means it's a good time to sell puts if you're prepared to take ownership of the stock.
Lowe's (LOW)
Dividend Yield: 1.8%
Lowe's is an important home improvement retailer in the United States and Canada that serves over 18 million customers each week. Lowe's revenues have been steady during the past 12 months but its earnings have grown significantly, with its net margin jumping by 1% year to date compared to last year's first nine months. Along with Home Depot, Lowe's is a top dividend pick for 2020 that promises both price growth and sustained dividend growth.
LOW has been a strong performer since gapping higher in August with the stock mostly staying above the rising 50-day moving average since then.
Gilead Sciences
Dividend Yield: 3.8%
Gilead is a major biotech company and the world's leading HIV treatment producer after its first HIV-related drugs were introduced and patented in 2010. The company holds the patent on important HIV treatment active components and it recently filed a 3-year extension. This situation has attracted negative attention from politicians, regulators, and consumer advocate groups, but its financials are sound and the drop in its price due to the impact of this negative perception has made Gilead an interesting target for investors seeking a high dividend payout from a financially sound company.
GILD trended sideways for most of 2019, but is currently holding just above a now rising 200-day moving average. If the stock can hold above, perhaps 2020 will be more fruitful for shareholders.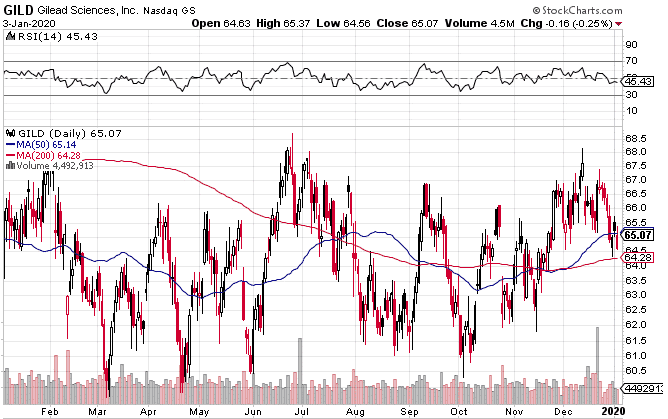 I'll be running a free webinar on January 7th – The 5 Step Blueprint to Option Trading Success – REGISTER HERE.
Trade safe!
Gav.
Disclaimer: The information above is for educational purposes only and should not be treated as investment advice. The strategy presented would not be suitable for investors who are not familiar with exchange traded options. Any readers interested in this strategy should do their own research and seek advice from a licensed financial adviser.