Ever since the 737 crisis hit Boeing in March 2019, the stock has experienced a 24% decline in its value and has underperformed the S&P 500 by 42%.
Now, investors are wondering if one of the largest airplane manufacturers in the world can survive this and whether its stock is going to rebound back to its pre-March levels.
There seem to be a few elements that indicate that Boeing has the capacity to cope with the storm so let's take a look at a few key factors.
Low Borrowing Costs
Since the 737 cannot be delivered until it is cleared by the FAA, Boeing has been tackling the bond market to finance all the operational expenses and investments required to continue building this model.
Even though the company's debt has increased by nearly $5 billion from Q2 2019 to Q3 2019, the company's liquidity is strong enough to deal with the financial expenses associated with these new commitments.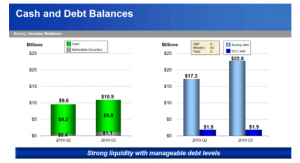 In fact, one of Boeing's strengths is its credit rating (A for most agencies), which allows the company to issue new debt at a significantly low average interest rate of 3.7%.
Relatively Safe Dividend Payout
Boeing's dividend yield is currently around 2.5%, considering FactSet's consensus dividend payment for 2020 ($8.25). The payment of this dividend should be considered "safe" regardless of the setbacks associated with the 737 situation due to a stable payout ratio.

Analysts conclude that 2020 Free Cash Flow (FCF) per share will be approximately $21, which means that the dividend represents nearly 40% of the Free Cash Flow. This ratio is considered to be good enough to maintain a positive outlook on dividend payments in the near future.
Boeing's Solid Business Model
Boeing's manufacturing operation is one of the most complex ones on earth, considering the fact that the company manages nearly 13,000 different suppliers and many manufacturing facilities located around the world. Not many companies can take on this market without incurring a multi-billion investment.
The commercial airplane market is dominated by Boeing and Airbus, and companies tend to stick with one manufacturer once they have made the first purchase due to high switching costs, which creates a stable source of revenue for the business.
Most fundamental aspects of Boeing including its debt, financial situation, revenues, business model, and valuation metrics don't necessarily generate a STRONG BUY signal, but they are definitely not scary enough to point to a STRONG SELL.
The 737 issues may be affecting the temporary value of the stock but the company seems to be well positioned to deal with it and recover once the issue is behind them.
Long-Term Put Spreads
Those willing to bet on a turnaround for the company might consider long-term put spreads, like the one I did on XOM a few weeks back.
Going out to January 2021 and selling a 270-260 put spread would net about $2.45 per contract with risk on $7.55.
That represents a 32.5% return for the year, provided BA closed above $270 at expiry. That's nearly a 19% margin for error from here.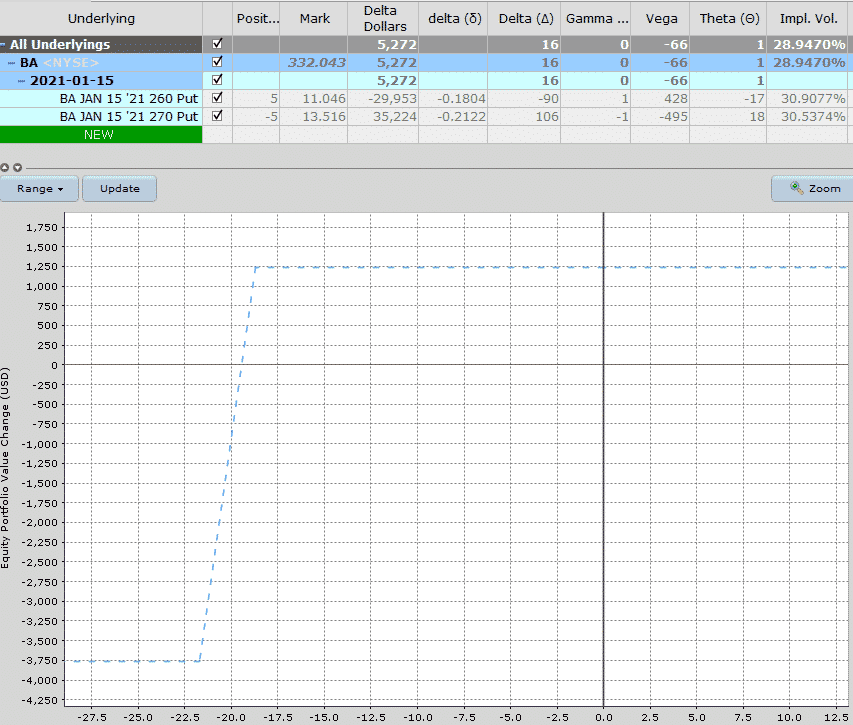 As always, do your own due diligence and trade safe!
Gav.
Disclaimer: The information above is for educational purposes only and should not be treated as investment advice. The strategy presented would not be suitable for investors who are not familiar with exchange traded options. Any readers interested in this strategy should do their own research and seek advice from a licensed financial adviser.